South West Maker Fest
/ Events
This exciting experience is back again for another year. After a hugely successful Maker Fest in 2018, we're back with another huge exploratorium of inventive action that aims to give young people the tools and inspiration to create.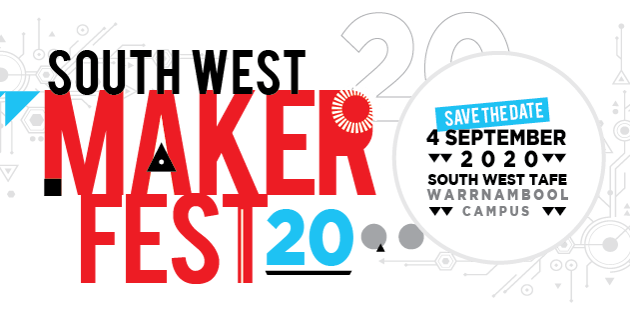 It's coming soon!
Friday 4 September 2020
South West TAFE
Warrnambool Campus
It's a place for inventors, tinkerers, builders, crafters and wannabe-scientists.
It is a makers showcase with the intention of encouraging others to dabble in inventing something themselves.
If you are interested in being part of the 2020 Makers Fest, complete our registration form and we'll be in touch for the next steps!
You might create in your garage or Maker Space, be a master of a particular craft or performance, have a collection of home-built robots, make obscure inventions there are no restrictions on who can apply (and no fee), but here are some topics we are looking for:
3D Printers and CNC Mills
Armeggedon/ Steampunk / cosplay
Bicycles
Conductive materials projects
Drones (Racing, DIY, etc.)
Electric Vehicles
Electronics/ Engineering
E-Textiles
Fiber artists
Food makers (not concessionaires)
Handicraft
Home Energy Monitoring
Homegrown
How to Fix Things or Take them Apart (Vacuums, Clocks, etc.)
Interactive art projects
Interactive Performances and Participation
Instrument hacking
Jewellery
Kit makers
Large-scale Art and kinetic sculptures or recycled art
LED art
LEGO user groups
Maker Spaces and FabLabs
Miniatures and model makers
Paper craft
Prop making
Puppets, Kites, and Other Whimsical Creations
Radios, Vintage Computers and Game Systems
Raspberry Pi/ Arduino projects
Robotics and Robot combat
Rockets and RC Toys
Science, Biology/Biotech, and Chemistry projects
Shelter (Tents, Domes, etc.)
Space or astronomy projects
Spinning
Student projects
Sustainability and Green Tech
Techno crafts
Textile Arts and Crafts
Unusual Tools or Machines
Weaving
The program this year will include:
Workshops by inventors and makers
Demonstrations of cutting edge technologies, and
Hands-on activities for kids and adults
We welcome every member of the community interested in Science, Technology, Engineering, Arts and Mathematics (STEAM) and Maker Education.
To find out more, contact us on swmakerfest@swtafe.edu.au