The Hive to draw entrepreneurs
/
Warrnambool district entrepreneurs and start-ups have a new place to develop their creative dreams with the launch of The Hive at South West TAFE.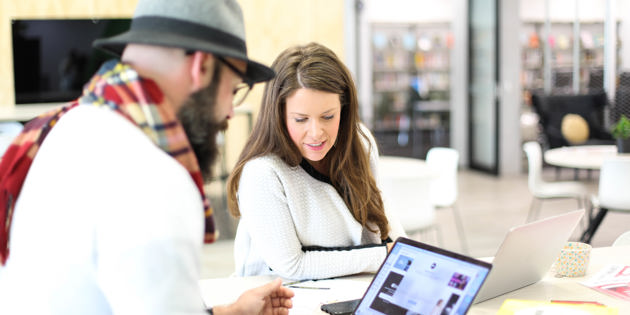 The Hive is a new co-working innovation hub where people can interact, share and build ideas and create in collaboration.
Like honey to a bee, The Hive at South West TAFE aims to attract like-minded local firms, freelancers and start-ups to take the next step in their creative development.
The Hive coordinator, Mairead Whelan, said there was an entrepreneurial community in Warrnambool with nowhere to go.
"People who work from home can find it isolating but, in The Hive, you have a community and network behind you," Ms Whelan said.
The Hive features a meeting room, hot desks, communal space to share ideas, a podcast studio, Smart Board and a green screen.
"It's a place for like-minded people in the community to come together and build on their cool ideas," Ms Whelan said.
Ms Whelan added that there was strong demand for creative co-working space.
"There's a pressing need for this type of facility," she said. "It is open to anyone in the community who needs help and wants to take advantage of the industry and community connections developed by TAFE and the city council," she said.
"People can act on their dreams or develop their side-hustle ideas and turn them into reality."
The Hive already has its first residents with the Storytowns podcast based at the centre.
Desks and spaces are available for hire and The Hive will host events, workshops, and masterclasses on a range of topics and industries and can provide support in fields such as finance and marketing.
The Hive entrepreneurial incubator space has been developed in the former TAFE library site after SWTAFE partnered with Foundation for Young Australians (FYA) to receive funding from the Victorian Government Workforce Training Innovation Fund to investigate new ways of looking at career development.  The project called the New Work Mindset discovered a local need for a new learning environment that can facilitate greater peer learning opportunities to equip young people with skills, networks and knowledge required for the future of work.
The Hive is working closely with Warrnambool City Council to ensure local community and economic development opportunities are fostered.
To book any space in The Hive, go to thehivewarrnambool.skedda.com/booking