How to become a builder
/
Do you love working with your hands? Are you a results-orientated person who takes pride in a job well done? If so, seeking a career as a builder could be for you. Builders in Australia are responsible for constructing new homes and commercial buildings. They also work with architects and engineers to ensure that the plans for a project are followed correctly.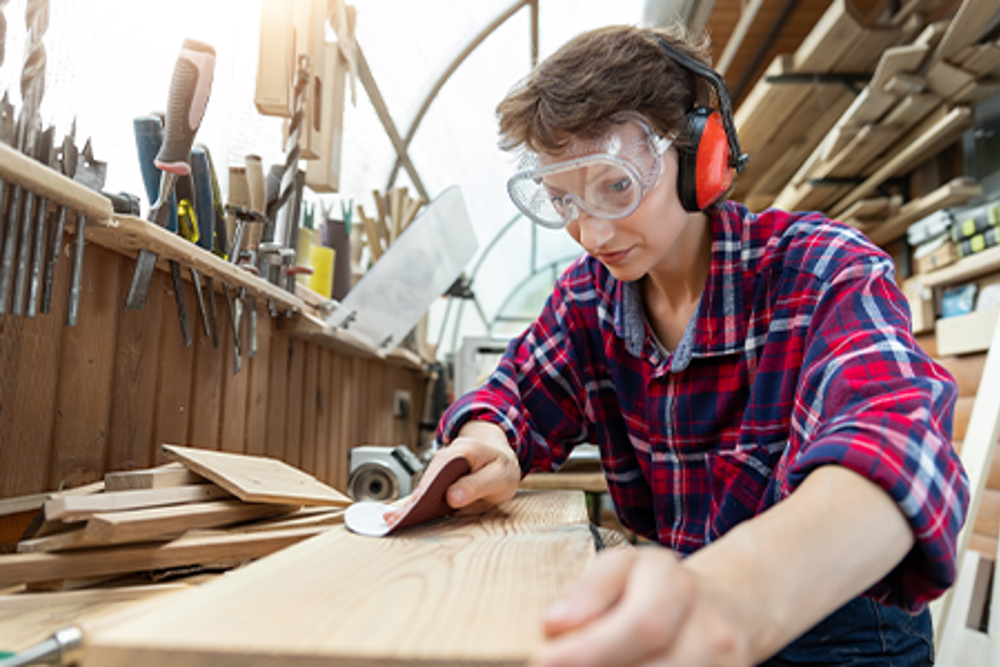 In this article, we will explore the ins and outs of how to become a builder in Australia to give you an idea if this profession could be the right fit for you. We will discuss exactly what a builder is, what a builder does and what can be described as valuable builder skills.
Choosing this rewarding career path means you'll need trade qualifications or university degrees in construction-related disciplines. We will run you through the building courses that will prepare you for the workforce and how to get a builder's license.
The life of a builder is exciting, as no two days are ever the same. Besides many perks, this career also offers a very handsome wage. We will touch on the typical builder's salary and the other benefits of starting a career in this field.
What is a builder?
A builder is someone who erects and maintains buildings, including homes and commercial properties. Builders work closely with other construction professionals, such as architects and engineers, to ensure that projects are completed safely and on time.
In Australia, builders must be licensed to practice their trade legally. The licensing process requires completing an accredited course and passing a written examination. It also involves an interview with the Building Commission. Once licensed, builders can start their own businesses or work for an existing company.
Builders typically work full-time hours during the week. However, they may also need to work overtime hours to meet deadlines or respond to emergencies. Construction sites can sometimes be dangerous workplaces, so builders must always follow occupational health and safety protocols.
What does a builder do?
A builder in Australia is responsible for many tasks, from supervising the construction site and coordinating workers to ordering materials and ensuring safety standards are met. Other duties include:
Reading and interpreting plans and specifications or architectural drawings
Estimating costs and timeframes
Negotiating contracts with clients, suppliers and sub-contractors
Organising the delivery of building supplies
Managing onsite staff, including labourers, tradespeople and engineers
Preparing progress reports for clients
If you're still wondering why to consider the life of a builder, then we'll give you a few reasons. Firstly, the working conditions for a builder in Australia are generally quite good. Depending on the region, the weather can be mild, and the job sites are typically well-organised and safe.
Valuable builder skills
Some skills employers look for when hiring builders are the ability to read and interpret plans and specifications, use power and hand tools, experience in carpentry or masonry, and good physical strength. Experience is also important – many employers prefer candidates who have completed an apprenticeship program. Much of this experience will come from an accredited building course, such as the Building and Construction Courses offered at South West TAFE.
Some other general skills that will come in handy when applying for construction industry jobs include:
Communication skills – communicating clearly and effectively with co-workers, clients, and other professionals is essential in the construction industry.
Organisational skills – builders must be able to keep track of multiple projects simultaneously and stay organised throughout the building process.
Teamwork skills – as construction is often a team effort, employers value workers who can cooperate and collaborate well with others.
Physical strength – many jobs in construction require manual labour, so employers prefer physically-fit candidates capable of performing strenuous tasks.
Manual dexterity – some tasks in construction require a high level of precision and skill, so workers who can use their hands dexterously are often preferred.
Problem-solving skills – builders need to identify problems and find solutions quickly and efficiently to avoid delays on the job site.
Critical thinking skills – critical thinking is important for making decisions during construction, such as choosing materials or resolving conflicts.
Time management skills – builders must be mindful of deadlines and budget constraints when working on a project, so employers value workers who can manage their time well.
Building courses
South West TAFE offers a range of courses that will get you started in a career in building and construction
There are pre-apprenticeship and apprenticeship courses in building and construction at South West TAFE. You can get started with the Certificate II in Building and Construction (Pre-Apprenticeship), and then undertake an apprenticeship completing the Certificate III in Carpentry (Apprenticeship) or the Certificate III in Cabinet Making (Apprenticeship). You can also step up your existing building career with a Certificate IV in Building and Construction. South West TAFE also offers high-risk licencing courses and construction induction (white card) courses so you can get all the official qualifications you need to start work.
Certificate II in Building and Construction (Pre-Apprenticeship)
The perfect first step to becoming a builder would be to enrol in this 20-week course. During the course, you will learn "real life" skills by participating in group projects involving building a full-sized domestic house. It's the perfect way to get trained in the basic technical skills necessary to progress in the building industry. Besides preparing you for an apprenticeship, the course will familiarise you with carpentry tools and equipment. Once completed, you'll be armed with everything you need to step into an apprenticeship in carpentry or building and construction work.
Certificate IV in Building and Construction
This part-time 10-month program is the ideal progression for those who have completed the Certificate III and are keen to progress in their building career. Classes are held two evenings a week via a virtual classroom. During the course, you will advance your skills and gain the experience to manage construction sites, become a building supervisor or start your own business.
Certificate III in Carpentry (Apprenticeship)
This four-year apprenticeship program provides a hands-on approach to gaining all the necessary skills and experience to become a carpenter in the building industry in Australia. Throughout the course, you will gain theoretical knowledge and technical skills related to carpentry. Once completed, you will be a qualified carpenter. This means you'll be ready to join the workforce within the construction industry!
How to get a builders license
To work professionally as a builder in Victoria, you must first register with the Victorian Building Authority (VBA). To do this, you must complete an accredited training course and pass the VBA's licensing examination. As part of the exam process, applicants must sit an interview. Then you will need to submit an application form and pay the registration fee. Once your registration is processed, you will receive a builder's license. This license allows you to carry out building work in Victoria up to a certain value, but you will be required to maintain your registration by completing Continuing Professional Development (CPD) courses each year and maintaining appropriate insurances.
If you're considering a building job in a different state, each state and territory has its own requirements regarding licensing. For example, Queensland requires you to register with the Queensland Building and Construction Commission (QBCC). This can be done online via their website. Once registered, you will then need to undertake a compulsory professional development course called Managing Legal and Regulatory Responsibilities (MLRR). This course must be completed before applying for your builder's license.
If you are already licensed in another country, you can then apply for a mutual recognition agreement.
Typical builder's salary
Beyond having a hands-on, challenging, yet rewarding career with job security, builders take home an excellent wage. The average yearly salary of a builder in Victoria is $87,901. What you end up taking home will depend on experience and where you work, but it's certainly a high-paying profession. If you decide to become a contractor or start your own business, one of the main perks would be that you get to be your own boss. You would also get to choose your hours and work as much or as little as you want.
A career as a builder is an excellent choice for those interested in working with their hands, designing and constructing structures, and problem-solving. It can be both demanding and fulfilling, offering opportunities to use creativity and innovation while developing technical skills.
With the right training and experience, builders can find stable employment with good wages and benefits. In Australia, builders must be licensed to practice their trade legally. Currently, carpenters do not require licensing; however, this is likely to change in the future. The licensing process requires completing an accredited course and passing a written examination. Once licensed, builders can start their own businesses or work for an existing company. If this sounds like the right career path for you, look at the courses available at South West TAFE to get your start in this ever-growing industry. Why wait? Contact SWTAFE today!