TAFE vs Uni
/
Are you a high school student considering your future? Did you leave school early and are thinking about continuing your studies? Perhaps you have a profession, but want to change careers. If you're going to take on higher education, you have some big decisions ahead of you. The first is, are you going to go to TAFE or university?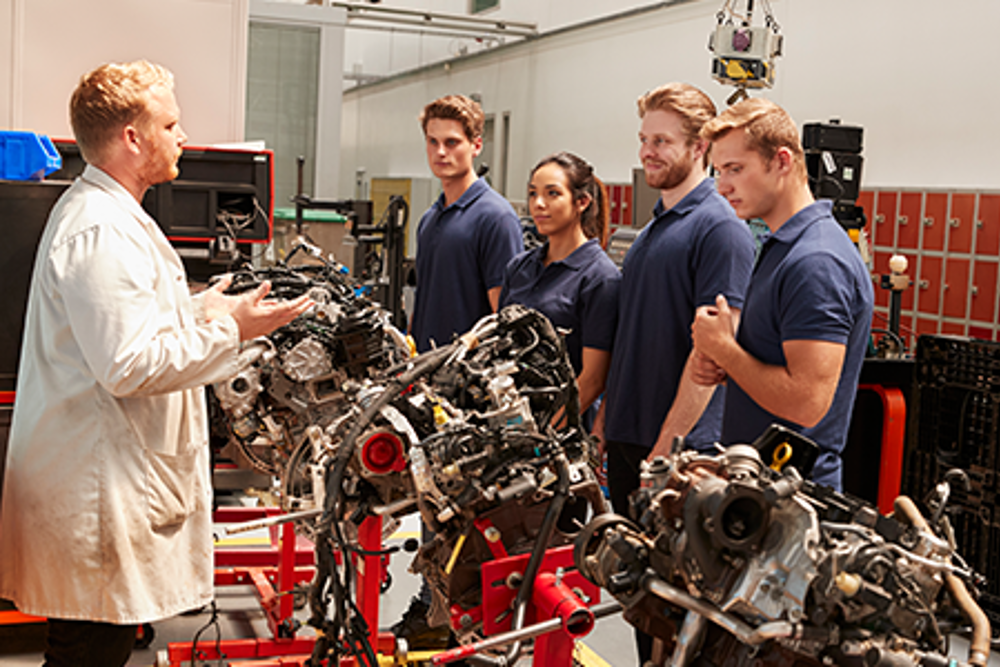 This article will explore the many differences between going to TAFE or uni. We will define what a TAFE is and what a university is to help you choose the right direction for your future studies. These two options offer diverse learning experiences and outcomes. Depending on your goals and finances, you may be going in the direction of seeking further education through TAFE.
Though studying at TAFE offers faster and more affordable career pathways, you might be asking: is TAFE worth it? We'll run you through the many reasons it is and help you learn more about these two educational pathways.
What is TAFE?
A TAFE (Technical and Further Education) is a public vocational education provider in Australia that offers Vocational Educational Training (VET). It serves as an alternative to higher education institutions such as universities. Its purpose is to provide you with industry training, certifications, skills development and bridges into further study at universities or TAFE.
TAFE courses are structured around hands-on learning where you can build on your knowledge while developing industry connections needed for employment.
These courses may include part-time studies over extended periods or full-time accredited qualification programs like technical certificate IVs or diplomas. These qualifications can take anywhere from 12 to 18 months or more, depending on your chosen field. Many government funding opportunities exist through these types of qualifications.
TAFE exists separately from university because it focuses on job-ready ability taught through skill-based training. TAFE offers different levels of education and training, such as vocational courses in trades or industry specialisations. While universities offer higher education through undergraduate and postgraduate degrees, TAFE specialises in practical skills geared towards career-oriented outcomes rather than academic qualifications alone.
This means you can pursue a tailored trade course without the burden of high tuition fees and related costs associated with tertiary study at university. All the while, you'll still be able to achieve the desired outcome: skilled employment opportunities.
What is university?
A university, or uni for short, is an educational institution that provides tertiary education leading to a degree. Universities offer degrees at the undergraduate level (bachelor), graduate level (Master/Doctorate) and postgraduate level programs.
Courses usually focus on one subject area, but they can also include interdisciplinary studies where you learn in various areas within your field. These courses can be structured around research assignments, expert lectures, exams, and collaborative projects.
The difference between TAFE and uni
TAFE and university differ in several ways. TAFE focuses on vocational courses, such as engineering or nursing, while universities offer more traditionally academic subjects like law or history. TAFE courses have shorter study times than at uni. For example, the average bachelor's degree can take up to four years full-time.
Some trade certificates only require six months part-time, making them particularly attractive. A flexible or part-time study program will appeal to anyone who wants to earn qualifications quickly. This type of study also comes in handy if you have other commitments to juggle, such as childcare or existing jobs.
The structures of TAFE and university differ in the courses they offer, their assessment methods, teaching approaches and levels. Tertiary education at a TAFE institution is more hands-on and practical, based on assessments that reflect this. Typical assignments may include producing reports or completing activities within an industry-approved framework to demonstrate meeting standards. TAFE courses range from introductory certificates to advanced diplomas.
These courses facilitate the possibility for graduates to qualify for entry-level positions right away. This is due to many TAFEs offering industry-recognised qualifications. Teaching styles vary among TAFE trainers, often focusing on active learning techniques while naturally remaining academically-focused. This means successful completion can also lead directly to further study.
On the other hand, a university education offers higher capacities to challenge yourself theoretically and practically over longer periods. Depending on the university and course, there may be more focus on research projects that account for many marks. That said, if you prefer an academic learning environment and are interested in completing a degree-level qualification, you might prefer to go to a university over TAFE.
Finally, the cost differences between university and TAFE can vary greatly. Generally, tuition fees for universities are much higher than those of TAFEs. However, there may be some exceptions depending on your course at either institution.
Depending upon government subsidies or special offers available through each TAFE or uni, additional costs such as books must also be taken into account when considering affordability. Other factors that can impact costs include transport costs and childcare assistance packages. Finally, something associated with costs that is worth noting is Free TAFE opportunities.
Free TAFE is a Victorian Government program that offers free TAFE courses to eligible students. This is an excellent opportunity to get free training for jobs that are in high demand. Institutions such as South West TAFE offer over 30 Free TAFE courses across various industries. For more information, check out South West TAFE's Free TAFE courses here.
Is TAFE worth it?
The short answer? Yes! TAFE courses can be of equal and higher quality than their university counterparts.
Here are a few reasons you should consider TAFE:
Quality qualifications
TAFE courses offer world-class qualifications recognised by both employers and universities, providing you with a competitive edge when entering the job market.
Professional support
TAFE education offers excellent professional support, with expert teachers providing personalised guidance throughout your learning journey.
Practical skills development
Taking part in real industry projects and engaging with guest speakers from different fields give you an advantage when entering your chosen profession.
Flexible learning options
You can choose how to study, whether on-campus or online—you'll have the flexibility for work/life balance while studying for a qualification.
Affordable tuition fees
You can enjoy affordable tuition fees, which means it will be easier financially to complete a degree certification.
TAFE also offers many benefits to employability and earning capacity:
According to a report released by the Skilling Australia Foundation in 2017, TAFE graduates have a higher initial earning capacity than bachelor graduates
From the same report, a TAFE graduate's median full-time income is $2,000 more per year than a bachelor's graduate
According to the Department of Education's projections, more than 9 in 10 new jobs over the next five years will need a TAFE or VET education.
In a 2022 publication by The National Centre for Vocational Education Research, 65% of TAFE or VET graduates had an improved employment status after their training, up 4.4 percentage points from 2021.
From the same report: for the TAFE graduates who were already employed before training, 17.3% of them were employed at a higher skill level after completing their TAFE or VET training.
Many of the courses available at South West TAFE offer fantastic career pathways. This means that you'll have the potential to earn a terrific wage. Check out this article about some of the highest-paid trades in Australia.
SWTAFE also offers trade apprenticeship courses. Successfully completing trade apprenticeships prepares you for the job's realities and gives you the skills, confidence and experience needed to secure a well-paid position. Some of these high-paying careers that are possible via TAFE include becoming an electrician or plumber.
Whatever your decision is, be sure to follow your passions and choose your pathway based on what feels right for you. What you study today will lead to your profession tomorrow, so consider what path will fulfil you most.
If you feel ready to take the road to success via a TAFE course, reach out to SWTAFE today.