Traineeship leads to passion for the tourism industry
/ Success Story
A traineeship in tourism has given Sean O'Keeffe an enthusiasm for working in the local tourism industry.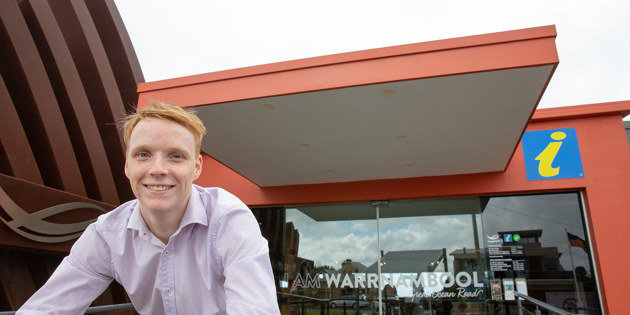 SEAN O'KEEFFE thanks his traineeship and studies with South West TAFE for his new-found confidence and passion for the tourism industry.
Sean has just completed a Certificate III in Tourism traineeship at the Warrnambool Visitor Information Centre and is looking towards a career in the industry.
During his traineeship Sean used his enthusiasm to help mentor work experience students and encouraged them to learn new skills.
He also produced weekly "What's On" videos promoting all of the city's upcoming events on social media.
Sean said he learnt to step out of his comfort zone and speak to large groups about his traineeship in the hope of inspiring others to follow a similar path.
Since starting his traineeship he has completely changed his lifestyle and has developed a passion for distance running.
This has turned into an obsession with the hope of competing in the New York Marathon later this year.
Sean was excited to win the 2019 Trainee of the Year at South West TAFE's annual Graduation and Awards ceremony in March 2020.
He is currently looking for work in the tourism field but has plans to continue his studies with a Diploma of Tourism and possible business studies at university at a later date.