How to become a barber
/
Do you love learning about haircare? Have an affinity for men's hairstyles? Would you love a job that gives you a creative outlet? Barbering could be the perfect job for you. Being a barber is an awesome career - in order to get qualified in Australia, you can complete full-time or part-time study or an apprenticeship. This can take anywhere from twelve months to three years, depending on the type of qualification and desired experience level.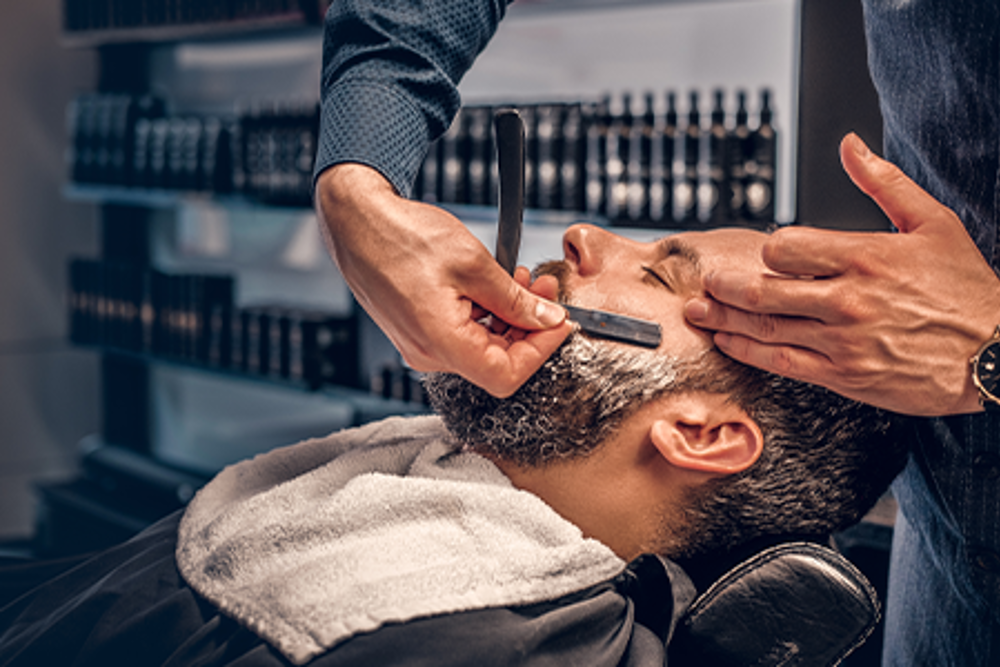 Come along with us as we explore what barbering entails and the many training and career opportunities you can look forward to.
What is a barber?
You've walked past plenty of barber shops and noticed men receiving hot towel shaves and crew cuts but have you ever stopped to think about what a barber is? What makes them different from hairdressers?
A barber is a professional who specialises in cutting, styling and shaving men's hair. Barbers are trained in traditional barbering techniques, such as tapering and fading. They also perform different kinds of facial hair grooming, such as beard trimming and shaving. Barbers differ from hairdressers in that they focus primarily on shorter hairstyles and traditional haircuts for men. Additionally, barbers offer hot towel shaves and beard-shaping services, typically not a service on offer in hairdressing salons.
What do barbers do?
As every barbershop is different, the daily responsibilities of a barber can differ. With that in mind, below are some of the typical daily tasks of a barber:
Consultation - A barber must have a strong understanding of their clients' hairstyle preferences, what works best for their face shape, hair type, lifestyle and any other factors that might influence the outcome of the cut. They must also be able to provide advice and suggestions based on their client's wants and needs.
Preparation - Before starting a service, a barber must ensure all necessary tools, equipment and products are on hand. This includes shampoo, conditioner, scissors, combs, clippers, and any other tools and equipment needed.
Haircutting - A barber must be skilled in cutting hair of all lengths and textures using various techniques. This includes designing men's haircuts, fading, tapering, crew cuts, current trends and more.
Styling - Barbers must know different styling techniques, such as blow-drying and product application.
Clean up - Barbers should always keep the work area and shop nice and tidy, according to health regulations and organisational procedures.
Customer service - A barber must be able to provide excellent customer service by being friendly, professional, and accommodating. They must also be able to handle customer complaints and questions promptly.
Being a barber is a rewarding and challenging profession, as you get to work with a variety of people and help them look their best. It takes a particular skill set to be a successful barber. Besides being able to cut and style hair, you also need to provide a relaxing and enjoyable experience for clients.
It can sometimes be a physically-demanding job, as you'll be standing for long periods and using your arms and hands a lot. Being a barber is an excellent job for extroverts and social people, requiring constant interaction with clients.
Barbering is a great career for those who are creative and want to work with people. It's an in-demand profession with an increasing need for barbers Australia-wide. Barbers have the potential to earn a comfortable living and many opportunities for growth within the field. Additionally, barbers can often set their own hours and work in a fun and friendly environment.
Being a barber in Australia is a great position. If you're wondering if you've got what it takes, below are some skills that will come in handy if you want to thrive in the role. Some of these are inherent personal skills, and some can be learned through an accredited barbering course:
Excellent customer service skills
Knowledge of hair-cutting techniques and hair-styling trends
Strong interpersonal and communication skills
Knowledge of safety and sanitation practices
Attention to detail
Dexterity and ability to use scissors and clippers
Ability to work quickly and accurately
A steady hand and good hand-eye coordination
Ability to build relationships with clients
Creativity and an artistic eye
Study a barbering course at South West TAFE
If becoming a barber sounds like the right move for you, you can start your journey toward this exciting career by taking one of the barbering courses at South West TAFE.
Certificate III in Barbering (Apprenticeship) (SHB30516)
As an apprentice pursuing the Certificate III in Barbering, you will learn various technical, sales, and consultative skills to provide clients with a wide range of barbering services.
Through this apprenticeship, you will gain practical skills and experience while working within the workplace as well as South West TAFE one day per week. You will attain knowledge in every area of barbering, including shaving, maintaining beards and moustaches, cutting, and men's grooming.
In this course, you will learn how to provide a full range of barber services, from client consultation, hair and scalp treatments, men's haircutting, shaving, and styling advice. You will also learn how to use freehand clipper techniques and perform haircutting styles, including carving and tracks. Upon successful completion of the course, you'll be ready to work as a barber.
Certificate III in Barbering (SHB30516)
In this course, you will gain practical experience in all facets of barbering, including cutting, men's grooming, shaving heads and faces, and maintaining beards and moustaches. You will also have free access to the most recent seminars with South West TAFE business partners.
The whole spectrum of barber services, including client consultation and guidance, hair and scalp treatments, men's haircutting, shaving, and men's grooming services, freehand clipper methods and specific haircutting techniques, are all covered in this course.
With successful completion of this Certificate III, you'll have the chance to enter the barbering industry with confidence, enthusiasm, and flare. You'll be qualified to apply for various jobs in barber shops or hair salons.
Getting a barbering apprenticeship
Your ticket to becoming a qualified barber may start with an apprenticeship. It's the best and only way to get on-the-job experience while gaining all the skills needed for this career. To find a suitable apprenticeship in your area, we suggest the following:
Search online for job postings from local salons or barbershops looking to hire an apprentice. You may be able to apply directly through their websites, or you can use online job ad websites.
Get in touch with the Australian Apprenticeship Support Network, which should be able to assist with how best to source available positions near you and what steps need to be taken to secure one of these roles.
Reach out to South West TAFE's Skills and Jobs Centre for any questions and support about finding an appropriate apprenticeship.
Average barber salary
Besides going to work with a smile on your face and doing what you love all day, you'll also earn a decent wage as a qualified barber. The average salary for a barber is $57,800. This will vary with location and experience, and you'll have the opportunity to earn much more when you're more senior or if you open your own barbering business.
During your barbering apprenticeship, you'll earn anywhere from $30,000 to $50,000, depending on your place of employment and skill level. Not bad for earning while learning!
Barbering is a great career choice if you are fond of men's grooming and love working with people. It takes time to become qualified, but with successful completion of the Certificate III program at South West TAFE, you'll gain experience and learn all the necessary skills needed to work as a professional barber.
During your apprenticeship, you'll learn new techniques from talented professionals and develop confidence through customer service experience. With industry demand increasing Australia-wide, on top of high earning potentials, now's the perfect time to start studying barbering if you're looking for something fresh or considering changing professions altogether.
With your dexterity and artistic flair, you'll be sure to make a name for yourself within this field—potentially even opening your own business. Nothing but excitement and opportunity awaits.
If you're ready to take the plunge into the exhilarating field of barbering, contact SWTAFE today to get started.