How to become a plumber
/
Have you ever considered a professional trades career in the plumbing industry? With job prospects expected to grow up to 8.6 per cent by 2026, training to become a plumber could be your road to success.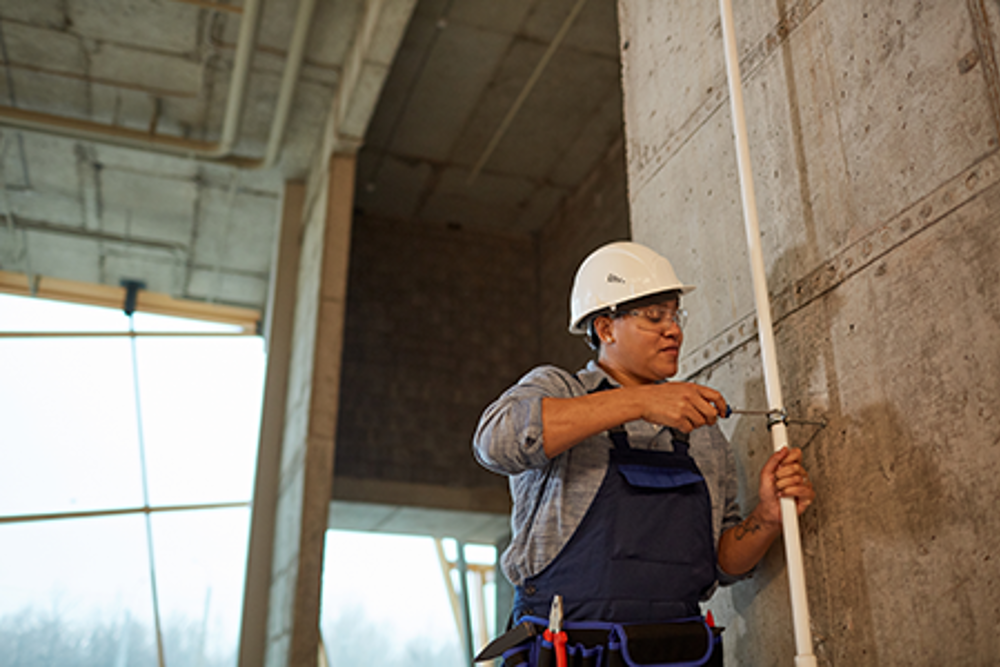 The Australian plumbing industry is currently valued at over $17 billion, making plumbing a career path that can provide a secure future, with both the stability and potential to earn a very comfortable wage. Unlike other industries, plumbing services will forever remain an essential component of modern infrastructure.
But what does a plumber do, is it the right move for you and what skills and qualifications are needed to become a successful plumber entering the job market in Australia?
What is a plumber?
A plumber is a licenced trades professional who installs and/or repairs pipes that carry water, steam, air, or other liquids and gases. They also work with roofing & air-conditioning (HVAC) ventilation and the service and repair of gas appliances.They perform their work on all kinds of fixtures found in homes, businesses and factory settings. Usually travelling to worksites to perform their duties, plumbers are highly trained in their trade and heavily relied upon by their customers for a range of sometimes urgent services.
What does a plumber and gasfitter do?
Besides installing or repairing pipes and fittings that carry liquids and gases, plumbers also perform work on fixtures such as sinks, toilets, bathtubs, showers, dishwashers, water heaters, sump pumps and rubbish disposals. In addition to their plumbing duties, plumbers are responsible for reading plans and specifications, meeting Australian standards and following the National Construction Code (NCC) when performing plumbing work. Many plumbers also specialise in gas fitting and gas servicing, drainage, civil construction, compliance testing, roofing and new homes.
Industries that employ plumbers include residential construction, commercial construction, plumbing contractors, pipefitting contractors, and sprinkler system contracting firms. Plumbers are also employed in the maintenance departments of factories, chemical plants, power generation facilities and large buildings such as office towers, shopping centres and in the mining industry.
The working conditions of plumbers vary depending on their job site and may change day to day. Typically working full-time hours, plumbers may sometimes work part-time depending on the needs of their employer. They may also have to work overtime to complete rush jobs or make emergency repairs. Some plumbers work in office buildings, while others travel daily to different worksites. Those who work in office buildings typically have regular working hours, while those who travel to different sites may have a more irregular schedule due to travel times. The plumbers who work outdoors can explore different areas but may also be exposed to inclement weather conditions depending on the time of year.
Should I become a plumber?
If you want a career that has job security and is highly paid, plumbing is a fantastic choice. Becoming a plumber is suited to individuals who are interested in working in a licenced industry, have good problem-solving skills, and are comfortable working in various environments.
One major benefit of becoming a plumber is it is a stable and secure career choice. The demand for plumbing services is always present, so you will never find yourself out of work. In addition, plumbing is a skilled trade that offers good pay and opportunities for advancement. Plumbers who start their own businesses have the potential to earn even higher incomes. Another benefit of pursuing this career is the ability to work independently or as part of a team. Plumbers who work for contracting firms often have the opportunity to travel to different job sites and meet new people. Victorian Building Authority (VBA) licenced plumbers are very much sought after overseas including in England, South Africa and New Zealand. Those who work independently may enjoy more flexible hours and working conditions. Either way, plumbing provides a challenging yet rewarding career for those willing to put in the effort required to succeed.
Plumbing courses
Becoming a plumber requires the completion of an apprenticeship program, which will take several years. However, once completed, you will be able to enjoy the benefits of being your own boss or working in different locations. With plumbing skills in demand, you can rest assured that work will always be available.
Courses offered at South West TAFE include:
Certificate III in Plumbing (CPC32413): The Certificate III in Plumbing is a part-time apprenticeship delivered at South West TAFE's Warrnambool campus and takes place over three to four years. The course is a combination of on-the-job training with an employer and over 27 one-week training sessions on campus. In this hands-on course, you will learn and gain skills in both plumbing theory and practical components. During this course, you will learn from highly experienced teachers gaining knowledge about water and pipework installations, drainage, gas fitting, sprinkler systems, urban irrigation systems, roofing and more. Upon successful completion of the Certificate III, you can apply to the VBA for registration assessment. Once assessed, career opportunities include plumbing roles specialising in drainage, gasfitting, roof plumbing, water supply, heating and ventilation and general plumbing. Further study to become licenced and your own boss are also available via the Certificate IV in Plumbing and Services (CPC40912). All applicants for this course must be employed as apprentice plumbers.
Certificate IV in Plumbing and Services (CPC40912): The Certificate IV in Plumbing and Services is a part-time course also delivered at South West TAFE's Warrnambool campus, with individual units offered throughout the year. Applicants can apply and commence any time, and each unit is run independently. This course offers you the opportunity to complete the course in full or to enrol in specific units that lead you to a specific plumbing-related licence. Career opportunities related to this course include becoming a self-employed plumbing contractor. All applicants for this course must be employed as a registered plumber. The Certificate IV can be incredibly convenient for existing plumbers to study and qualify to become self-employed.
Plumbing apprenticeships
Apprenticeships are one of the most important aspects of becoming a plumber. They provide on-the-job training that you cannot find in any classroom. Many apprenticeships are four years long, and once assessed by the Victorian Building Authority; plumbers are then qualified to work independently as a registered plumber. Apprenticeships are valuable because they allow youto learn from experienced professionals while getting paid for your work.
There are many ways to find a plumbing apprenticeship. The best way to secure an apprenticeship is by utilising South West TAFE's Student Services. The Skills and Jobs Centre is available to provide assistance and clear advice on how to find the right opportunity for you. Other methods of attaining an apprenticeship are through word-of-mouth or contacting contractors who may know of an open position. You can also find apprenticeships through online job postings, classified ads, or directly reaching out to local unions or firms.
How much do plumbers earn?
Source: PayScale - Average Plumber Hourly Pay in Australia​
The average salary for a plumber is AU $67,916 per year. Apprenticeship salaries average AU $29,410, but this increases as apprentices gain experience. There will always be the potential to earn more as both apprentice and registered plumbers gain experience and offer more services.
There is also significant potential for self-employment and independent business ownership in the plumbing industry. All plumbers start their careers as apprentices and work for someone else before going out on their own. With the right experience and credentials, starting your own business or working as a self-employed licenced plumber is possible. The main advantage of being self-employed is setting your rates and hours, giving you more control over your income.
Plumbing is a skilled trade that offers good pay and opportunities for advancement, making it a wise choice for those looking for a challenging and rewarding career. With a clear idea of the skills, qualities and training necessary to start a career in this dynamic field, are you ready to start your journey to becoming a plumber? If so, get in touch with us today at SWTAFE.