How to become an electrician in Australia
/
With the building industry at an all-time high, the demand for electricians in Australia continues to rise. If you're considering a role in the electrical industry, it could be a very smart move for your wallet and your future.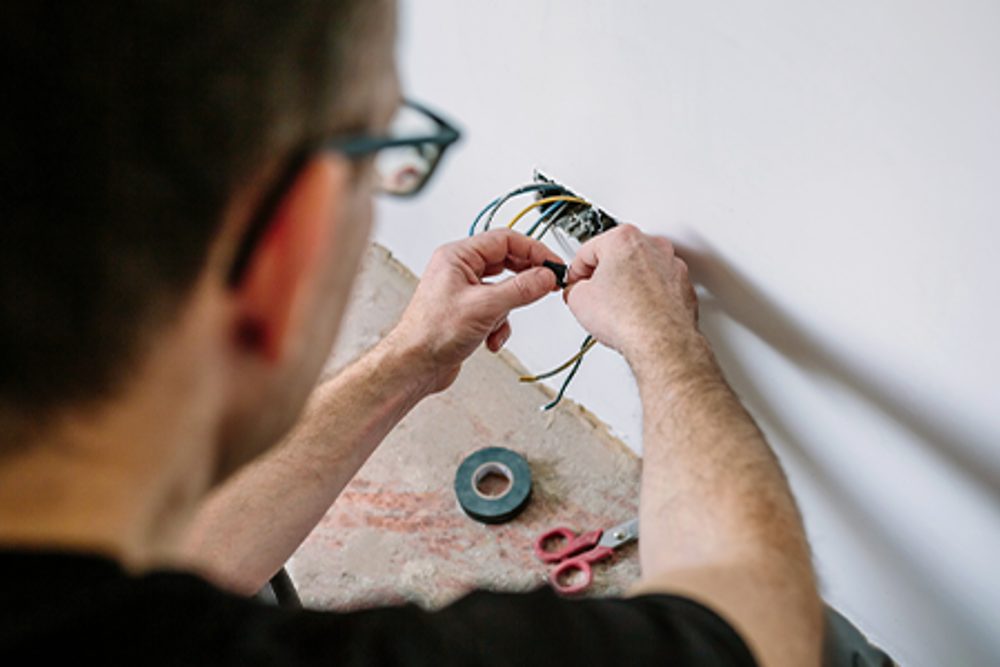 What is an electrician?
An electrician is a trades professional responsible for installing and repairing electrical systems and networks. It's quite a diverse career as electricians are trained to work with a variety of electrical equipment, including wiring, circuit boards, fuse boxes, and more. By nature, electricians must have strong problem-solving skills and be able to troubleshoot various complicated electrical issues. While electricians typically work in commercial or industrial settings, they may also be employed to service other environments, such as residential settings.
What does an electrician do?
An electrician can be responsible for several tasks, mainly consisting of installing, repairing and maintaining electrical systems. They may also be called on to design, assemble, test, commission and diagnose issues with electrical networks, circuits, equipment, components, appliances and facilities. They will work in a variety of settings, including residential, commercial and industrial buildings. Electricians may also be called upon to work in outdoor settings, such as power plants and construction sites.
The duties of an electrician can vary depending on their employer and the specific job they are working on. Some of the most common tasks that electricians carry out include the following:
reading blueprints or schematic diagrams to determine the placement of outlets, switches and other components
using hand tools and power tools to install or repair electrical wiring
testing electrical systems to ensure they are functioning properly
inspecting transformers and circuit breakers.
Electricians may also specialise in wiring ships, aeroplanes and other mobile platforms, as well as data and cable television systems.
Electricians are employed in a variety of industries. Most commonly, it will be within the construction industry, but there are many opportunities within manufacturing, mining, and utilities.
Regarding working conditions, electricians typically work full-time hours, although some may work part-time or overtime as needed. Some electricians may also be on call 24/7 in case of emergencies. Since some of the work performed by an electrician is carried out outdoors, some jobs will demand that workers be exposed to various weather conditions.
Electrician skills
Becoming an electrician is an exciting prospect. It's a diverse and lucrative role that can be carried out within many different industries. That said, some qualities and personal skills will lend themselves if you're considering this career path. The most important qualities of an electrician are:
good communication skills
strong problem-solving skills
the ability to work independently
attention to detail
physical stamina
good hand-eye coordination
mechanical aptitude
customer service skills
maths skills
Electricians should also be in good health, as they often have to stoop, kneel, crouch, and crawl when necessary. They will also have to lift heavy objects and work in awkward positions. In addition to being physically demanding, the job requires workers to be aware of on-the-job health risks associated with live electrical lines and high heat. To minimise these risks, electricians are required to follow Occupational Health and Safety guidelines set by Work Safe Australia.
There are many benefits to working as an electrician. For one, they are in high demand in Australia, so there is always a need for qualified workers. Electricians also earn a good wage and can often find work with good benefits and job security. Additionally, they can take pride in their work, knowing that they are helping to keep homes and businesses safe and running smoothly.
Electrician courses
Once you've made the exciting decision to become an electrician, it's time to start your journey to becoming qualified. The first step will be deciding on a provider and program that suits your needs.
At South West TAFE, there are two courses to consider if you're ready to take the plunge into this diverse and ever-growing industry.
Certificate II in Electrotechnology Studies - This full-time entry-level course is delivered at South West TAFE's Warrnambool campus and is perfect for school leavers or anyone interested in getting started in the electrical industry. The Certificate II course includes hands-on experience and training in electrical theory and will prepare you with the required prerequisite knowledge and skills to gain access to a wide range of apprenticeships offered within the industry. Upon completion, you will receive a Construction Induction Card (White Card) – the industry requirement to work on construction sites. The only entry requirements to commence the course are basic computer skills and language, literacy, numeracy and communication skills equivalent to year 10 level.
Certificate III in Electrotechnology Electrician - The Certificate III in Electrotechnology Electrician is an apprenticeship delivered via on-the-job training and training sessions at South West TAFE's Warrnambool campus that takes place over three to four years. This course was specifically designed for electrical apprentices to obtain their electrician's licence. In this course, you will learn all areas of study necessary to achieve the qualifications to commence a career in the electrical industry. This includes selecting, installing, setting up, testing, fault finding, repairing and maintaining electrical systems and equipment in buildings and other premises. While there are no set requirements for the course, all applicants must be employed as an apprentice with a registered employer in the electrotechnology industry to enrol.
Electrician apprenticeships
An apprenticeship is a commitment made between an employer and an employee where the employee agrees to work and train with the employer in a specific trade for a set amount of time. Apprenticeships are valuable because they provide employees with on-the-job training and classroom instruction in essential safety and trade skills. These programs are very comprehensive and will prepare you for employment.
There are many ways to find an electrician apprenticeship. One way is to contact your local Australian Apprenticeship Support Network or training provider. They will be able to provide you with information on how to apply for an apprenticeship and what the requirements are. Another way is to contact an electrical contractor in your area and enquire about hiring an apprentice. That said, the most important resource for finding an apprenticeship is the South West Skills and Jobs Centre at South West TAFE. The Skills and Jobs Centre will assist with your resume and provide advice on finding an apprenticeship that suits you.
Electrician salary Australia
https://www.payscale.com/research/AU/Job=Electrician/Hourly_Rate
The average salary for an electrician is AU$73,368. The average salary for an electrical apprentice is $37,732. However, there is quite a range, and both qualified electricians, as well as electrical apprentices, have the potential to make a lot more.
According to the National Electrical Contractors Association (NECA), electricians are among Australia's most in-demand tradespeople. This means that you will have ongoing job security by choosing to study for and pursue a career in the electrical field. A recent report also stated that the occupation of an electrician is one of the top five jobs in Australia, of which many employers are currently seeking to hire across key industries.
After exploring what it takes to become an electrician, are you interested in taking the plunge? Upon getting qualified, you will have the opportunity to be well paid, have job security, and work in a range of settings. With excellent training opportunities available, such as the courses offered at South West TAFE, perhaps it's time to consider starting down the path to being a part of this exciting field. If you have any questions or want to know more, contact SWTAFE today.