What is a case manager?
/
Do you like helping people? Are you interested in a career that focuses on improving the lives of others in need? Have you ever considered a future in community service? If so, you should consider becoming a case manager.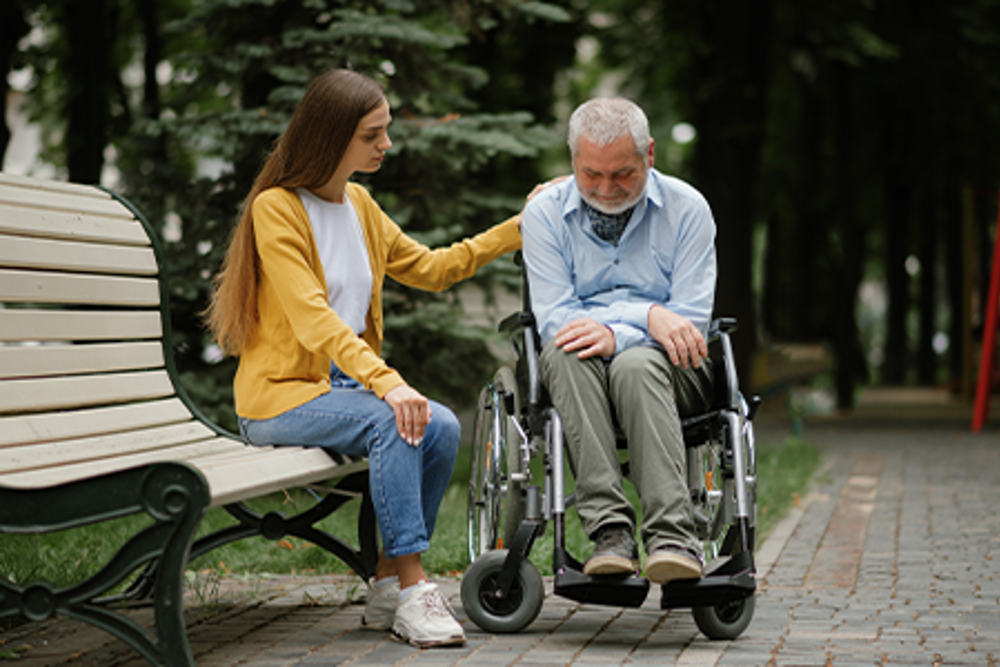 A case manager is a professional who arranges and monitors care and services for individuals with disabilities, chronic illnesses, or other special needs. Case managers assess the needs of their clients and work with them to develop individualised care plans that include accessing community resources. These resources can include housing, healthcare, and job training. They also provide counselling, advocacy, and support to help their clients reach their goals.
In this article, we will explore everything there is to know about being a case manager, including what case management is, what case managers do and what skills are considered valuable in case management. If you're interested in pursuing this career, you'll first need to acquire some formal training. We'll walk you through how to get started by exploring the case management courses on offer at South West TAFE. Once qualified, you'll have the opportunity to apply for case manager positions across different sectors. We'll also give you the low down on the average case manager's salary.
What is case management?
Case management is a collective process of planning, assessing, facilitating, evaluating, coordinating care and advocating for an individual's health needs through various service channels. This is achieved through communication and seeking out available resources to promote quality, cost-effective outcomes. It includes the identification, coordination, and monitoring of services across multiple providers, across various settings, and over time. It is an organised approach to ensure that an individual's healthcare needs are addressed in an efficient and timely manner.
Case management can be used in many fields, such as healthcare, social work, aged care, community services, education, law enforcement and criminal justice organisations. Additionally, it is also used by various businesses across industries such as customer service departments that use case management software to track customer enquiries or complaints and ensure each one receives a timely resolution.
What do case managers do?
Case managers are responsible for providing a variety of services to clients who require assistance. These services could include coordinating referrals, developing service plans, linking clients with resources, and advocating for clients.
Case managers work with clients to identify their needs, create a plan to meet those needs, and ensure that the plan is successfully implemented. In partnership with their clients, case managers will assess, plan, and coordinate services to improve their quality of life. They provide short-term and long-term planning for their clients and will constantly develop and redevelop service plans and programs. At times, various services are to be coordinated simultaneously, making case managers the ultimate multi-taskers!
Working as a case manager also requires a strong understanding of the community resources available to provide appropriate referrals. Case managers must be able to assess the needs of the client to develop an effective service plan. From there, they can coordinate all appropriate services and advocate for the client. A case manager will provide support, guidance, and assistance to clients and their families.
Case managers must practice effective communication to relay important information to their clients, families, and related professionals. It is paramount to maintain accurate records, document client progress, understand the importance of confidentiality, and adhere to ethical standards. Case managers need to have a broad knowledge of the social services system and be able to navigate said system to ensure clients receive the best services available.
Being a case manager is both rewarding and challenging. One of the bigger challenges can involve dealing with demanding clients and their families. They may also be tasked with making tough decisions about the services their clients need. However, the role also involves providing support and comfort to people who are facing difficult times. Case managers have the opportunity to make a positive difference in someone's life. It's truly a gift to be able to help clients access the resources they require and/or connect them with professionals who can provide further assistance.
Valuable case management skills
If case management is a career that interests you, it would be good to see if you possess the skills that your future employers will be looking for. Some of the most important skills that will benefit you in this field include:
Strong communication skills - Being able to communicate clearly and effectively with clients, their families, doctors, and other case managers is essential to being a successful case manager.
Empathy - A good case manager should be able to put themselves in the shoes of their client to clearly understand what they are going through and how best to help them reach their goals.
Organisational skills - Keeping track of paperwork, phone calls, emails, and appointments is all part of being an effective case manager.
Time management - A great case manager knows how much time each task requires while still meeting deadlines so that they can provide high-quality care without compromising on important tasks or services.
Problem-solving abilities - Good problem-solving abilities will come in handy when dealing with complex cases, as well as helping clients find solutions if there's no obvious solution. This includes using creative approaches when needed, staying up-to-date on resources available within the community, advocating for clients, and always looking out for new ways that could potentially benefit those under your care.
Employers are looking for case managers who deeply understand the social services system and how to navigate it. They want someone with in-depth knowledge of relevant laws and regulations, as well as an ability to think critically and take initiative. They will value applicants with experience working with people from diverse backgrounds highly. Having a proven ability to work independently as well as collaboratively with other disciplines, such as medical personnel or social workers, will also be highly valued by employers when hiring a case manager.
Case management courses at SWTAFE
Now that you've got a clear picture of what the duties of a case manager entail, it's time to consider your formal training. There are two courses offered at South West TAFE that will have you on your way to becoming a case manager:
Diploma of Community Services (CHC52015):  
The Diploma of Community Services (CHC52015) is a full-time two-year course that offers a perfect introduction to community services. Taught across both face-to-face and virtual classes, you will also have the opportunity to undertake a work placement. The placement offers an invaluable experience where you will gain the skills to work with individuals, groups and whole communities.
The entrance requirements for the Diploma of Community Services (CHC52015) are:
Being a minimum of 18 years old
Completion of an entrance test and group activity
Submission of a current resume
Participation in a selection interview
Satisfying a Working with Children Check and Police Check
Upon successful completion of the course, you'll be able to apply for case manager roles as well as an abundance of other prospective jobs in the community service field.
Diploma of Community Services (Traineeship) (CHC52015): 
This 18-month traineeship offers real-life industry experience where you will learn how to implement the services and interventions carried out by case managers. The Diploma of Community Services (Traineeship) (CHC52015) lets you learn while you earn and includes monthly workshops as well as four workplace visits per year.
The entrance requirements for the Diploma of Community Services (Traineeship) (CHC52015) are:
Being a minimum of 18 years old
Employment with an appropriate organisation
Satisfy a Working with Children Check and Police Check
Upon successful completion, you'll not only be qualified to apply for a range of case manager and community service roles, but it will also enable you to apply for membership with the Australian Community Workers Association (ACWA).
Average case manager salary
The average salary for a case manager is $66,463 per year in Australia. Besides offering a competitive salary, there are other perks associated with studying to become a case manager in Australia. These can include:
Possibility of career development through further qualifications, such as bachelor, postgraduate studies or specialisations.
The ability to choose from various roles within the sector, including working with vulnerable people, children and families.
Roles offering challenging yet rewarding work that requires problem-solving skills to ensure good outcomes for clients.
The opportunity to develop professional networks and collaborate with other professionals in the field.
A range of benefits such as flexible hours or job shares allows better work-life balance.
In conclusion, becoming a case manager is an incredibly honourable career that allows you to make a difference in people's lives. Being a successful case manager requires a certain personality type along with specific skills and abilities. Formal training and experience are essential, which can be obtained through the Community Services courses offered at South West TAFE.
Besides a handsome average salary of $66,463 per year in Australia, most roles in case management will also have the potential for career development and progression.
Furthermore, case managers have the satisfaction of knowing they are making a positive impact on society. If helping others in your community sounds like something fulfilling, then this could be the perfect role for you! Get in touch with SWTAFE today and start your journey towards this rewarding career!