Women in trades
/
Although women make up almost half of the Australian workforce, according to recent data from the ABS, only about one in five tradies are women. There's no way around it; women are highly underrepresented in trade professions within Australia.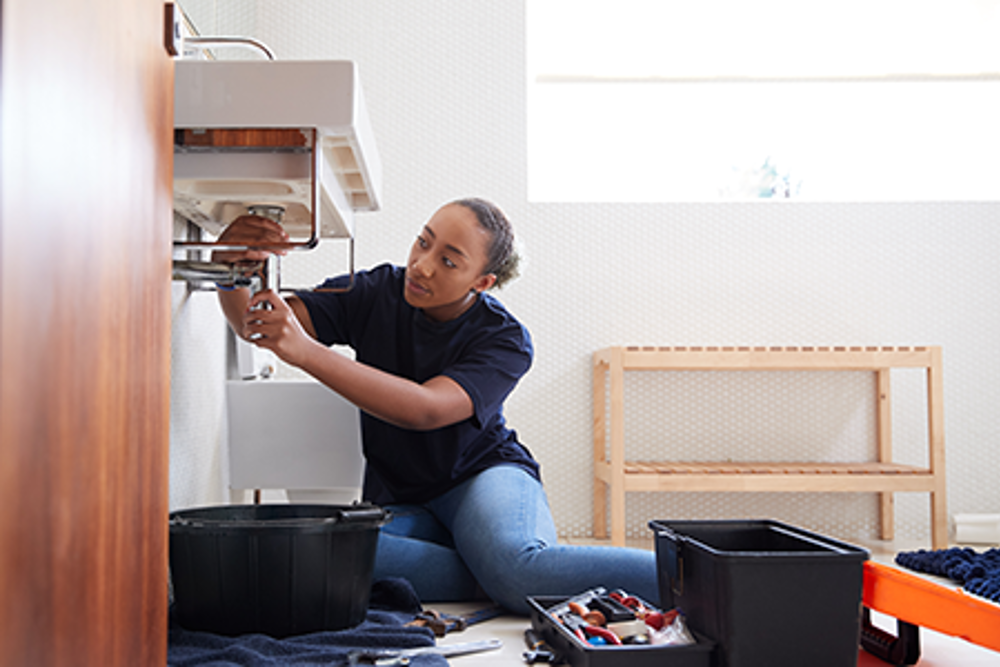 There are several reasons for this gender imbalance in trade professions. One is that many trades have been historically seen as "men's work". This can be a barrier for women to enter into these trades, as they may face discrimination or be seen as less capable than men.
Other reasons include the fact that trade occupations often require a lot of physical strength and stamina, perhaps more than some women feel confident about. Some roles can be quite dangerous, too, which may deter women from pursuing them.
Despite these challenges, many women do work in trades in Australia. More and more women are starting to enter these male-dominated fields every year. With greater awareness of the issue and continued effort, someday, we could see a more even balance of men and women working in trades across Australia.
With the support and even specific scholarships for women tradies from organisations such as South West TAFE, there should soon be an upswing in women in professional trade industries.
Why do a trade?
There are many reasons why someone might choose to work in a trade. For some, it may be the financial stability that comes with having a well-paid job. Others may be attracted to the high employment demand for tradespeople, which can offer job security and opportunities for advancement.
Many people enjoy the team aspect of working in a trade. Tradespeople often work closely with others in their field, forming strong bonds and friendships. And, of course, there's the satisfaction that comes from using your hands to create or fix something tangible.
Whatever the reason, there are many benefits to working in a trade. If you're thinking about pursuing a career in one of these exciting fields, consider all of the advantages it could offer you. You may be surprised at how rewarding, and fulfilling working as a trades professional can be.
Trades for women
Women have traditionally been underrepresented in trade professions. However, this is changing. More and more women are pursuing careers in trades, and many are finding that there is no trade they can't do.
South West TAFE offers courses in a variety of trade areas. These include automotive, plumbing, engineering, building, cabinet making and electrical trades. There have been some incredible success stories featuring female students who are excelling in all of them.
In 2020, SWTAFE plumbing student Shona McGuigan was awarded Apprentice of the Year at the Victorian Training Awards and was a finalist in the Australian Training Awards.She was recognised for her passion for the trade and outstanding results in her studies.
Kasey Smith is a former high school teacher who studied for a pre-apprenticeship in electrical work. She received two scholarships to help her with childcare and other expenses, one for $1500 from Powercor and another for equipment from South West TAFE.
These success stories prove that women can succeed in any trade they choose to pursue. If you're thinking about a career in a trade, don't let your gender hold you back. You can achieve anything you set your mind to.
South West TAFE offers training through a variety of trade courses that will prepare any woman for an exciting new career as a professional tradie. Featured courses include the following:
Automotive: You will learn hands-on skills and knowledge to work as a mechanic of light vehicles. You will gain experience in servicing and repairing engine management systems, steering, suspension, transmission and braking systems and servicing engine cooling systems.
Carpentry: Apprentices in this field will develop a range of hands-on skills to work in the construction industry as a residential or commercial carpenter. You will learn how to work in a team, ensuring quality craftsmanship while meeting all safety standards.
Cabinet Making: This apprenticeship will give you the skills to work as a qualified cabinet maker and give you the opportunity to specialise in the design of kitchens, bathrooms and interior spaces or furniture design and technology. You will develop hands-on skills to work in industries including the manufacture and installation of fitted furniture, including kitchens and bathrooms.
Engineering: Engineering apprentices can work in either the fabrication or mechanical fields. As a fabrication engineer, you will learn skills in structural steel fabrication and erection, pressure vessel manufacturing, and pressure pipeline installations. Steel fabricators are employed in a variety of industries, including manufacturing, shipbuilding and repair, defence, mining and construction. Mechanical apprentices can work in a variety of trade streams, including maintenance, machinist, fitting and turning and hydraulics and pneumatics. Apprentices in this field will learn a variety of skills, including the design, manufacture, installation, modification, testing, maintenance and servicing of all mechanical equipment.
Electrical: Apprentices in this field will learn to select, install, set up, test, fault find, repair and maintain electrical systems and equipment in a range of different buildings. You will learn skills including wiring, circuit protection, switchboard design and installation testing and verification.
Plumbing: As a plumbing apprentice, you will learn about roof plumbing, sanitary and drainage, hot, cold and warm water, gas fitting, mechanical plumbing, irrigation and fire protection. Apprentices in this field can be employed in general plumbing, drainage, gasfitting, roof plumbing, water supply or mechanical services specialties.
Female trade apprenticeships
There are many different trades that women can pursue an apprenticeship in. Some of the highest-paid trades in Australia include electrical work, plumbing, and automotive work. For more information about highly paid trade professionals, check out our informative article here.
These trades offer good job security and opportunities for advancement. But where do you start when considering an apprentice program? It can feel daunting to start the apprenticeship-seeking process, but luckily, South West TAFE can help you find the right apprenticeship for you. We offer courses in various trade areas and student support services to assist you in finding an apprenticeship that's perfect for your skills and interests.
Skills and Jobs Centre
Students studying at TAFE may need support to find an apprenticeship. The support offered by the South West Skills and Jobs Centre at South West TAFE can help students navigate the process of finding and applying for apprenticeships, as well as how to manage their studies and work commitments. By utilising this free service, students can increase their chances of securing an apprenticeship and making a successful transition into the workforce.
Tradeswomen Australia
Tradeswomen Australia Group strives for gender equality and empowers all girls and women to access, participate, and succeed in trades. They work to educate, encourage, recruit, and retain more women in trade careers while also raising community awareness. Additionally, they support businesses in all trade industries to hire from a previously untapped workforce – women! To do this, they lead large-scale culture change projects that aim to shift social attitudes in the workforce, empowering businesses to take the lead and remove barriers for women wishing to enter their trade. Finally, they offer mentoring services aimed at helping female tradespeople feel more confident on the job site.
In the spirit of supporting women in trades and in addition to numerous student support services on offer, SWTAFE also offers a variety of student scholarships.
TAFE scholarships
South West TAFE offers a variety of student scholarships. However, the one that is most relevant to women entering the professional trades is the Women in Trades scholarship, which gives $2000 to a female applicant looking to enter into a non-traditional trade industry. This scholarship is open to anyone who is planning to or is enrolled in a trade course at South West TAFE, is female and is an Australian Citizen or holder of an Australian permanent humanitarian visa. This scholarship can be used for course fees, materials, books, industry events, PPE and/or tools.
There are also other South West TAFE scholarships available such as regional scholarships and an Open Scholarship, also offering up to $2000 to students if granted. Check out more of the scholarships we offer here.
If you're considering pursuing a trade career, don't let antiquated gender-related barriers hold you back. You can achieve anything you set your mind to. The success stories of women in trades prove that they can succeed in any trade they pursue.
South West TAFE offers courses in various trade areas, and our Skills and Jobs Centre can assist you in finding an apprenticeship that's a perfect fit for your skills and interests. So if you're ready to take the next step, contact the Skills and Jobs Centre today to discuss pathways into a rewarding trade career.