Teacher and student win top state awards
/
A South West TAFE teacher and student have both been recognised for their achievements at this year's Victorian Training Awards on Saturday night.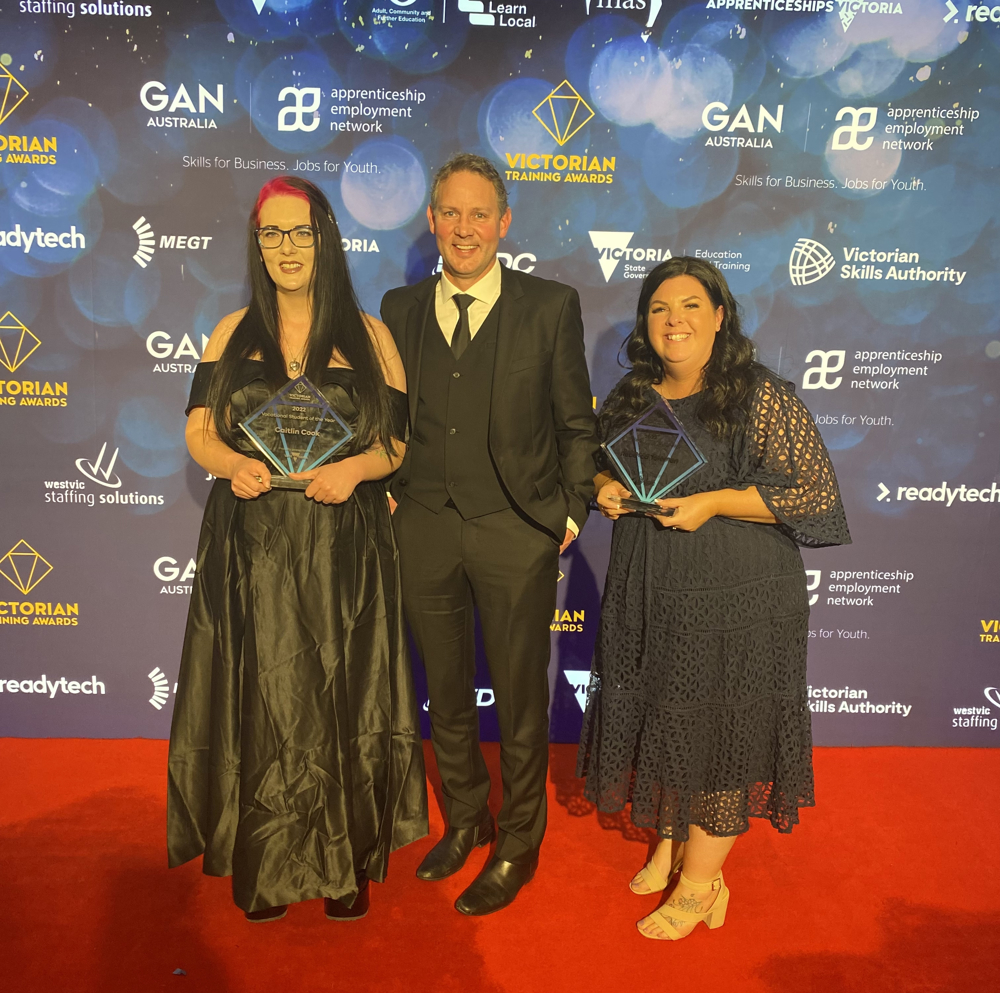 The Victorian Training Awards recognise and honour the outstanding achievements of individuals and organisations across the Victorian TAFE and training sector.
Agriculture teacher Rebecca Toleman took out the title of this year's Teacher/Trainer of the Year, while former nursing student Caitlin Cook won the Vocational Student of the Year.
It was her passion to mentor, teach and support future farmers that lead to Rebecca's nomination in the awards.
She said she was shocked to have won considering the high calibre of nominations.
"I love what I do and I have such a passion for the agriculture industry in this region. I feel it is such a privilege to teach new students about this important industry and inspire them to find their own way in their careers in the field," she said.
Rebecca started at South West TAFE in 2018 with 10 years of farming experience, including work on both dairy and sheep farms.
Her aim to inspire the next generation of farmers has resulted in the growth of South West TAFE's agriculture programs from 30 enrolments and 2 full time teachers to 370 students and eight teachers.
She has also been instrumental in implementing innovative teaching techniques to change the way students learn calving skills. She has introduced a state-of-the-art customised Holstein birthing cow simulator into the classroom, allowing students to gain practical experience without any animal welfare concerns.
South West TAFE nursing student Caitlin Cook was also surprised to take out the Vocational Student of the Year category.
She said she could not believe she had won against some incredible finalists.
"I still can't believe that I'm now a nurse and to win this award is so exciting.
"I want my story to highlight the importance of education and to inspire other young people like myself that you can achieve anything you set your mind to," she said.
Before studying with South West TAFE, Caitlin was a young stay-at-home mum to five children, and while she had always wanted to be a nurse she didn't think a career in this field would ever be achievable.
She enrolled in the VCAL Young Parents Program and was quickly encouraged by her teachers to apply for the Diploma of Nursing.
During her studies she was faced with the death of her partner and illness of her mother. Throughout this time, she inspired her teachers and fellow students with her resilience and ability to excel in her studies.
She is now working as a nurse and personal care assistant and has plans to study a Bachelor or Nursing and then midwifery at Deakin University next year.
South West TAFE CEO Mark Fidge said it was so exciting to have Rebecca and Caitlin both recognised for their achievements.
"These awards acknowledge their dedication in teaching and studying and being named best in the state for their respective categories is due recognition for their hard work.
"We are so proud of their success and we now wish them all the very best at the Australian Training Awards to be held in Adelaide in November," he said.